The following was taken from "A HISTORY OF THE KILDAYS OF GREENE COUNTY TENNESSEE", by Joe Kilday of Houston, TX.
"A HISTORY OF THE KILDAYS OF GREENE COUNTY TENNESSEE"
According to "
A Short History of the Kildays"
, two brothers (an unknown source identified the brothers as being
John
and
Joe Kilday
) came to America, probably in the 1700's, and settled in Pennsylvania. About ten years later a third brother,
Ephram
, came to America and settled in Virginia. Nothing else is known about
Ephram
, except that he had a son named Henry.


Henry Kilday ca.1765-1775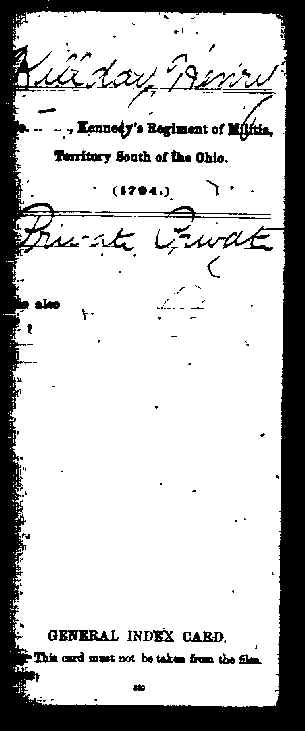 The first recorded reference to the Kildays in Tennessee was in 1794, two years prior to Tennessee attaining statehood. According to the "Index to Volunteer Solders, 1784-1881", Henry Kilday, during 1794, served as a private in Kennedy's Militia Regiment of the Territory of the United States, South of the River Ohio, commonly known as the Southwest Territory. This Territory consisted solely of that area later to become Tennessee. "The Complied Service Records of Soldiers" who served from 1784 to 1811 states that Henry was a private in a "detachment of infantry, under the command of Captain Joseph Casey, in the Greene Regiment of Washington District Militia, commanded by Daniel Kennedy, Esq., for the protection of the frontiers Southwest of the river Ohio". Henry was called into service March 1, 1794; mustered-in on March 18, 1794 at Knoxville; and discharged June 4, 1794, also in Knoxville. The detachment that was mustered-in consisted of one ensign, two sergeants, one corporal and eighteen privates.

In 1798, two years after Tennessee attained statehood, reference to Henry is found in the Greene County taxable property list of Captain Crawford's company as owning no taxable land and one white poll. The next reference to Henry was his marriage to Nancy P. Bowman, performed by John Newman in Greene County, Tennessee on April 22, 1799. Nancy was the second of eight children born to Jacob and Elizabeth Keller Bowman, was born in Shenandoah County, Virginia in 1772. Her family moved to Greene County, Tennessee from Shenandoah County about 1796. Nancy's paternal grandparents were Jacob and Elizabeth Bowman, and her maternal grandparents were George and Anna Barbara Hottel Keller. Anna Barbara was born December 10, 1713 in Alsheim, Germany.

Later, a reference was made to a John Kildea on the "List of Free Taxable Inhabitants of Greene County for 1805". Because the Kilday name was then spelled many different ways (Kildea, Kildee, Killday, Kilda) and that there is no other record of a John Kilday, it is possible that Henry and John were either the same person, or they may have been brothers, as brothers frequently named their children after each other, and Henry's only son was name John.

After admission of Tennessee to the Union in 1796, the Governor of the state commissioned officers in the militia. Henry Kilday is listed in the "Record of Commissions of Officers in the Tennessee Militia, 1796-1815" as being commissioned as an Ensign of the 3rd Regiment of the Tennessee Militia form Greene County by Governor John Sevier on October 3, 1807.

Henry is listed in the 1809 and 1810 Greene County, Tennessee tax rolls as a member of Captain John Olinger's District with no taxable property and one white poll. No references are made to Henry for the 1811 and 1812 tax rolls.

Henry's Death

On June 18, 1812, the United States declared war on Great Britain, beginning the War of 1812. According to his service record, Henry Kilday was enlisted by an Ensign Peck on March 3, 1813 to serve five years in Lieutenant Stewart's detachment of the U. S. 24th Infantry Regiment. He was present at muster rolls on March 3,1813 and July 31, 1813, but died in the service of his county on December 19, 1813. The reference, "Known Dead During the War of 1812", confirmed the date of Henry's death and noted that Henry had died, not been killed.

The 24th Infantry Regiment, part of the American Forces of the Northwest under the command of William Henry Harrison, won the battle of the Thames in Canada against British forces and their Indian allies in September 1813. Henry was probably was the 24th at the time. In order to secure Sachett's Harbor, Harrison's troops were then moved eastward. Leaving a few companies from the 24th Infantry Regiment on the Niagara frontier, Harrison reached his destination on November 16th with some 1,300 men, a fourth of them sick. Of the volunteers left at Niagara, only 60 regulars from the 24th Regiment and 40 volunteers were remaining on December 10th. Henry evidently died at one of these locations and was probably buried there.

The Tennessee Pension Roll of 1835 for Greene County" notes that Henry was a private in the 24th Infantry Regiment during the war of 1812. According to the pension roll he "… died in the United States' service" on December 19, 1813. His heirs were listed as Sally, Polly, Barsheba, Rebecca, John and Prudence. His heirs obtained a pension, which was half-pay for five years in lieu of bounty land. This amounted to a total of $48.00 per year.

"The Greene County Court Records" indicated that on Friday, May 1, 1818, Robert Dobson, with his consent, was appointed guardian to the minor heirs of Henry Kilday. He entered into bond with John Sevier and Hugh Carter. Later that year, on Monday October 26, 1818, Henry's widow, Nancy P., appeared in court to make oath that Sally, Polly, Barsheba, Rebecca, John and Prudence Kilday were the only legitimate heirs of Henry Kilday and all were under 16 years of age when their father died. The actions were probably taken in order to retain the pension that had commenced on February 17, 1815. They continued to receive this pension until February 17, 1820. There is no further mention of a Prudence Kilday in the Tennessee records, but the other five heirs are reference in Greene County marriage records.